NEW CANTO Chairman Focuses on Securing Future Spectrum For Caribbean Mobile Operators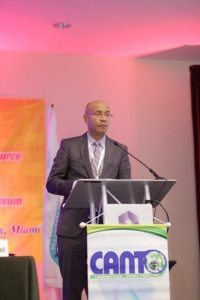 The new Chairman of CANTO Julian Wilkins from Digicel Group welcomed over 500 delegates to the Annual CANTO Conference and Exhibition recently held in Miami, USA. The Chairman stated that by far this conference is the biggest Telecoms ICT event in the Caribbean.
The Chairman focused on securing future spectrum for Caribbean mobile operators. At a special session that focused on the upcoming World Radio Conference Wilkins mentioned that CANTO has communicated with Ministers in the Caribbean region on the availability of new spectrum for mobile operators. We must secure additional spectrum for advanced mobile and broadband services. This is to facilitate the progress of 5G services and the "Internet of Things" in the Caribbean. It is important therefore that at the next Inter-American Telecommunication Commission (CITEL) meeting in Ottawa, Canada 17-21 August, 2015, Caribbean countries vote in favour of proposals that increase the mobile spectrum availability.
Wilkins in his presentation mentioned that CANTO is seeking Government support in ensuring that Caribbean consumers can avail themselves of the next generation of mobile services and that they are not left behind when these services are introduced. The International Telecommunication Union (ITU) will take a crucial vote on the spectrum available for these services in November.
The world is moving away from analogue and other inefficient forms of RF emissions such as TV and radar. Instead, we are moving towards digital techniques, so that more spectrum becomes available for telecommunications regarded as a better utilization of precious spectrum resources.
The CANTO Chairman concluded that the CITEL meeting scheduled for 17-21 August in Ottawa, Canada will be the final opportunity to secure the spectrum before the World Radio Conference in November 2015.
Wilkins requested that Caribbean Governments consider additional spectrum allocations for mobile service on a primary basis particularly for the UHF band for International Mobile Telecommunications (IMT).
END.