Suriname Emerges Winner of CANTO C.O.D.E. 2.0 Hackathon
FOR IMMEDIATE RELEASE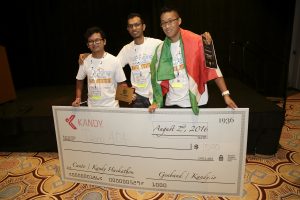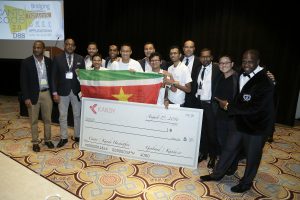 San Juan, Puerto Rico – CANTO hosted the 32nd Annual Conference & Trade Expo at the Sheraton Puerto Rico with one of its main attraction being the 2nd Annual C.O.D.E Hackathon. CANTO C.O.D.E 2.0 was launched under the theme "Bridging the Caribbean Network" as part of CANTO's overall objective to stimulate and promote an innovative Caribbean ecosystem.
C.O.D.E 2.0 entailed 48 hours of non-stop coding by teams of programmers, who battled it out to create the most innovative ICT technology. This year's developers utilized GENBAND's Kandy.io – a state of the art, cloud based, real-time communications software development platform – to develop next generation integrated communications Apps.
Four teams were engaged in the event. Team 404 came from Suriname and they presented "call911" a disaster management solution. Team BAH CODE hailed from the Bahamas and offered "directly" an office directory solution. Coming from Belize was team Codeit who presented "kapoint" a customer service solution, and from Trinidad & Tobago team Raiora presented "saf-ty' a disaster management solution.
The competition was very close and the judges had their work cut out. Herbert A. (Haz) Samuel was one of the judges, he being no stranger to app development was also on hand to deliver some motivational words to the participants. In the end it was Team 404 of Suriname that was victorious. The quality of work presented by all teams continues to show the future generations will have something to contribute to us being more producers and less consumers.
CANTO partnered with Genband with the addition of the Kandy.io Platform. Kandy.io is an award-winning communications platform as a service (PaaS) that allows anyone from developers to Fortune 500 companies to easily embed real time communications capabilities such as voice, video, collaboration and text directly into existing applications and business processes. Thousands of developers along with global brands such as SAP, IBM and Tech Mahindra are leveraging Kandy.io to bring innovative use cases to market. This year the event was made seamless and it gave all competing teams a level playing field.
CANTO 2.0 Hackathon was made possible by key sponsor E.J. Saunders of Domo Semo Sancus (DSS) a FinTech company with an objective to support financial inclusion and bridge the e¬commerce divide by building financial tools to empower the less fortunate.
Instrumental to CODE 2.0 was facilitator PIEDATA; a hybrid Accelerator that unites and connects Caribbean innovators, incubators, and investors with the world. This partnership has thus facilitated the impetus for further innovative solutions to be generated within the Caribbean and CANTO and their partners will continually strive to be at the forefront of Caribbean Made Innovation.
CANTO Secretary General, Teresa Wankin was thrilled with the positive feedback of C.O.D.E 2.0 and promises a bigger and better C.O.D.E 3.0 Hackathon which will be held in the Dominican Republic, July 16th -18th, 2017.