Team Jamaica wins CANTO 's i-Create C.O.D.E. 1.0 Hackathon Competition
"Opportunity rarely follows the crowd. More and more often, great companies and products won't be built in Silicon Valley, they will come from all over the world, particularly the nations of the Caribbean. I'm 1000% sure that the next great things will come from one of our nations, the only question is… which one" Brian Brackeen (C.E.O and founder) Keynote Speaker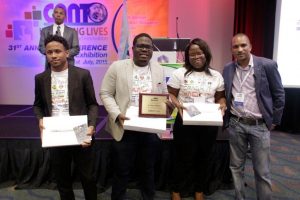 Team – JAMROCK with Chairman & CEO of DSS E. J Saunders (4th from left)
On July 27th-29th, 2015 CANTO, DSS and PIEDATA hosted the 1st Annual CANTO i- Create C.O.D.E 1.0 Coding Competition at the Hyatt Regency, Miami, Florida. The regional software, design and developer competition highlighted five (5) teams of the best software developers and designers from the Caribbean region. The competition gave each team the opportunity to be creative as they developed solutions to a unique challenge that was presented to an expert judging panel. At the end of the competition teams walked away with over $7,500 in prizes.
We are extremely pleased to announce that this coding competition was a great success from inception to completion. The event was well attended and supporters from the various countries, Jamaica, Suriname and Belize captured every moment via our live stream. The competing teams showed great skill, competitiveness and showmanship during the competition. However, there could have only been one winner. Seizing first place at CANTO C.O.D.E 1.0 this year was a group of brilliant developers and designers from the beautiful island of Jamaica – Team JAMROCK lead by Shamir Saddler.
The event also engaged a lot of Caribbean youths, both local and abroad, in stimulating Caribbean tech start-¬ups to gain exposure and expert advice on business development. The event promised to provide a fun, exciting and interactive experience that will not only captivate the minds of the Caribbean youth but also provide excellent networking opportunities and CANTO C.O.D.E 1.0 2015 without a doubt delivered.
See exclusive video footage of the Hackathon here:https://youtu.be/EaGaY4vH58s
——————————————————————————————-
About Us
•CANTO is recognized as the leading trade association of the ICT sector for shaping information and communication in the Caribbean. Founded in 1985 as a non-profit association of 8 telephone operating companies, CANTO has now grown to over 123 members in more than 34 countries. A Board of Directors appointed by the membership directs policy of the Association. This strategy is executed by the staff of a permanent Secretariat based in Trinidad and Tobago.
• DOMUS SEMO SANCUS (DSS) is a FinTech company that was founded to support financial inclusion and bridge the ecommerce divide by building financial tools to empower the less fortunate. DSS seeks to hire elite innovators that can solve technically challenging problems. DSS' tool sets are being developed on top of IBM's billion dollar plus, cognitive computing platform Watson, which itself is being developed to "… enhance, scale, and accelerate human expertise", E Jay Saunders- Chairman.
• PIEDATA is the marketplace for Caribbean innovation. We are a 21st century hub, that unites innovators, incubators, and investors within our Caribbean Diaspora. Our goal is to provide a platform where the 'Caribbean Brand" can be developed and showcased and this is done in a three stage process that include inspiring, educating and sustaining the Caribbean youths. PIE is where competition lives, PIE is where innovation lives. PIE~ Think Caribbean Technology -it all starts with your imagination.