CANTO Chair and Secretary General Visit New CEO of Belize Telemedia Ltd.
Port of Spain, Trinidad & Tobago, 12th April, 2017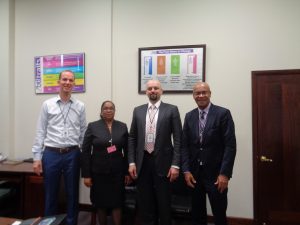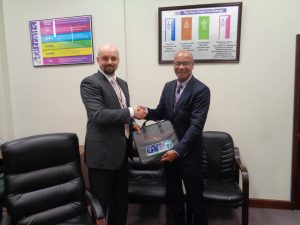 CANTO Chairman, Julian Wilkins and Secretary General, Teresa Wankin paid a courtesy visit to Rochus Schreiber the new CEO at Belize Telemedia Ltd. (BTL) headquarters in Belize City, Belize.
Mr. Rochus Schreiber was appointed as the new Chief Executive Officer (CEO) of BTL with effect Wednesday, April 5th, 2017.  Mr. Schreiber boasts over 20 years of professional experience, and has worked in diverse global settings throughout the Americas and Europe. Within the Caribbean region, he has served as CEO of Digicel's local operations in Anguilla, Nevis and  Montserrat.
CANTO had the privilege of meeting the new CEO on his first day on the job. Discussions were held on the upcoming CANTO conference, the Code of Practice for safeguarding the open Internet; the CANTO working committees and the work of the CICC working committees. CANTO was also given a tour of the BTL facilities.
Belize Telemedia Ltd. is an active member of CANTO and will be at CANTO's  upcoming 33rd Annual Conference & Trade Exhibition in Punta Cana, the Dominican Republic:- 16th -19th, July, 2017.