CANTO Chairman Talks of 'Net Neutrality' Trade-off in Light of Over-the-top Operators
Reposted from the Daily Observer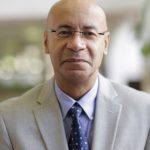 The Chairman of the Caribbean Association of National Telecoms Operators (CANTO) has argued that there must be a trade-off of "strict net neutrality" rules if telecommunications service providers are to continue to operate alongside over-the-top (OTT) applications.
 'Net neutrality' is the principle that Internet service providers and their regulators should treat all data on the Internet the same in that they do not charge differently by user, content, website, platform, application, type of attached equipment, or mode of communication.
However, CANTO Chairman Julian Wilkins said it is important for telecoms providers to be able to charge differently for Internet depending on the class of user, and to compete in this area, arguing that there had already been a drop in revenues from voice communication services due to the rise of OTTs.
Wilkins, who is also Digicel's director for Government Relations and Public Affairs said, "We make money from data but it's nothing like what we made on voice. For example, who makes an international call anymore? There are WhatsApp and so many other OTT apps that people are using. All of it just eventuallly caught up with us."
OTT applications – such as WhatsApp – refer to those in which audio, video, and other media transmitted via the Internet without an operator of multiple cable or direct-broadcast systems (telecoms operators) controlling or distributing the content.
"The large Internet giants like Google [are] offering so many apps. You can make calls and use services over those platforms they offer but they actually invest nothing in the Caribbean. While the end user can use the service, what it means for operators is that voice revenues have been falling," Wilkins said.
The CANTO chairman said in spite of this, "most of the Caribbean network operators" had signed a memorandum of understanding (MOU) making a "commitment not to block over-the-top services or apps".
According to a March 21 press release from Digicel there are 30 telecoms operators which have signed on to the MOU to date.
Wilkins said this was part of the principle of net neutrality that telecoms operators were willing to sign on to, but cautioned that if more "strict net neutrality" began to prevent operators from charging differently, according to their classes of Internet customers, the sector would take a blow.
 "There are some regulators who don't want us to have that ability to charge differently for providing services to different classes of customers," he said.