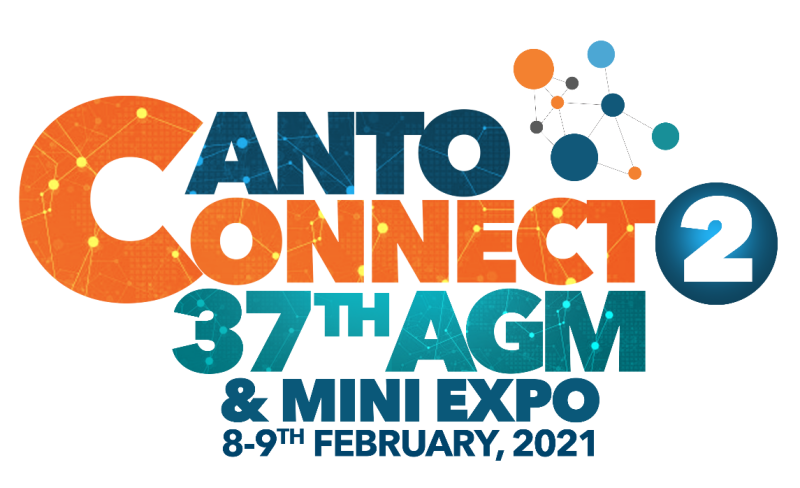 CANTO CONNECT 2- 37th AGM & Mini Exhibition Day 1 Recap
PORT-OF-SPAIN, Trinidad and Tobago: CANTO CONNECT 2- 37th AGM & Mini Exhibition delivered all that was promised and more, from virtual start to finish on day 1, Monday 8th February 2021. Hosted by well-known Master of Ceremonies and cultural icon Wendell Etienne, CANTO's 37th Annual General Meeting, under the theme Adapt|Enable|Innovate, brought together high-level ICT experts and Government officials from across the Caribbean and Latin America, to continue to shape and consolidate the Region's goal of the digital transformation. Of course, in true CANTO style, the day's programme was tastefully interspersed with light entertainment provided by comedian Dahlia Harris and drinkologist Stephen Jamunar.  Completing the entertainment line-up were DJ Charlotte and Aaron Fingal who brought attendees to their feet with a hot Soca music session.
Day 1 focused on the current global 5G Revolution and the preparedness and ability of Caribbean Operators to deploy and leverage the opportunities afforded by 5G technology. The need for greater spectrum also dominated the discussions. Following opening introductions and remarks by CANTO Chairman David Cox and Secretary General Teresa Wankin, the day's agenda rolled out with Keynote Speaker, Jose Luis Ayala, Chairman, Spectrum Group for CITEL Region (Americas), GSA and Feature Speaker, the Honourable Brigadier (Retired) Mark Phillips, Prime Minister of the Co-operative Republic of Guyana.
In his presentation Chairman Ayala noted the possibilities for 5G to offer consumers an ultra-experience with applications in the manufacturing, health, education and agriculture sectors. Prime Minister Mark Phillips noted Guyana's move to liberalise the ICT sector to enable new entrants into the market. The Prime Minister also highlighted his Government's goal to bring connectivity to over 200 communities across Guyana.
A frank and informative panel discussion by presenters Mike Antonius, Vice-Chair, CANTO; Tim Burke, VP Mobile Products & Technology, Liberty Latin America and Giovanni King, Chief Operating Officer, Bureau of Telecommunications and Post, Curacao, explored the advantages and challenges of adopting 5G technology in the Caribbean. While all speakers agreed that currently 5G was the next step forward in ICT technological advancement; they also acknowledged that it was expensive to deploy and the small size of some territories may not bring in the level of revenue that would make it attractive for Operators. Site sharing, spectrum sharing and collaboration among Operators were put forward as options to be considered, if the Caribbean region has to successfully derive the benefits of 5G technology.
Closing off the business of the first day's agenda were further specifics on spectrum requirements for the Caribbean in the lead up to WRC-23. Dr Veena Rawat, Senior Spectrum Advisor, GSMA and CANTO Director and Senior Manager, Regulatory Affairs, Cable & Wireless, Melesia Sutherland spoke on the focus to get more access to the mid-band spectrum range which would allow for more capacity and coverage. Director Sutherland encouraged members and stakeholders to work with CANTO to put together a proposal to take to WRC-23 to advance the Region's position.
The 37th AGM continues on Tuesday 9th February from 9:00am. Scheduled on day 2 are the formal AGM procedural items along with presentations on cyber security and cloud services.
Sponsorship for the AGM is provided by Digicel Business, Cable and Wireless Communications, ATN International, Schneider Electric, Calix, Sasktel International, Internet Society, Tripwireless Inc, Telesur, Telecommunications Services of Trinidad and Tobago, Viya Business Solutions, Integratouch, Ictual N.V., PBS Technologies (Trinidad) Ltd, Spatial Innovision Limited, LTE Executions.