NOTICE OF CANTO's 33rd Annual General Meeting and Mini Exhibition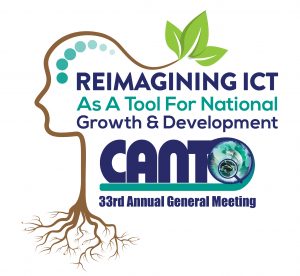 Ref: SG231/11/16
14th December, 2016
NOTICE OF
CANTO's 33rd Annual General Meeting and Mini Exhibition
29th – 31st January, 2017
Renaissance Resort & Casino, Curacao
Co-hosted by: United Telecommunication Services – Curacao
Bureau Telecommunications & Post
Dear Member
Notice is hereby given that the 33rd Annual General Meeting of Members and supporting events will be held from the 29th – 31st January, 2017 at the Renaissance Resort, Curacao. The theme for 2017 is "Reimagining ICT as a Tool for National Growth and Development". The AGM proceedings will take place on Tuesday 31st January, 2016. All members are invited to the AGM however, in accordance to the Bylaws- Section 6.2, non-financial members are not entitled to vote. Members are therefore urged to ensure that they are in good financial standing in order to exercise the right to vote.
The purpose of the AGM is to:
• receive and consider the annual report of the Association
• to consider and adopt audited financial statements for the fiscal year ended 2015/16
• consider and elect directors;
• appoint auditors for the year 2016/2017
• receive and adopt the minutes of the 32nd Annual General Meeting
• transact further and other business of the Association
This 33rd AGM is important to our members as it satisfies our statutory obligation, allows us to report to our members and get their views on how we can better serve the membership. The Mini Exposition and Industry forum will add value to members' attendance and provides valuable insights on Reimaging ICT as a Tool for National Growth & Development.
In addition to our AGM proceeding's the working committees of the board will meet to discuss their action plans for 2016/17. Members are encouraged to have representatives participate in these working committees as it enable us to align our work plans to our members request.
Committee meetings are scheduled for 30th January, 2017 at the following times:
• Regulatory Committee (8:00 am – 10:00 am)
• Financial Advisory Committee (9:30 am – 10:30 am)
• Disaster Risk Management Committee (10:30 am – 12:30 pm)
• Marketing & Communications Committee (8:00 am – 10:00 am)
• Human Resource Committee (9:30 am – 10:30 am)
• Corporate Social Responsibility Committee meeting (10:30 am – 12:30 pm)
• Vendor/Supplier Committee Meeting (8:00 am – 9:30 am)
• Technology Trends Committee (10.30am – 12.30pm)
We are pleased to announce that for the third consecutive year, the AGM will be paperless. Documents can be found via, http://canto.org/events-conferences/annual-general-meeting-agm/
• Annual General Meeting Draft Programme
• Committee Meeting Agendas
• Status of Directors Terms in Office
• Online Registration
• Hotel Reservations
• Proxy Form
• Instructions to participants
• Review of Bylaws
Members are encouraged to book flights and hotel accommodations as soon as possible, due to the peak season at the hotel.
On behalf of the Board of Directors, I would like to take this opportunity to wish you a successful and prosperous year in 2017 and urge you to attend this 33rd AGM and support the Secretariat as we plan our activities that will add value to our membership.
Yours Sincerely

Teresa Wankin
Secretary General
CANTO