Antigua PM Addresses CANTO 2017 Conference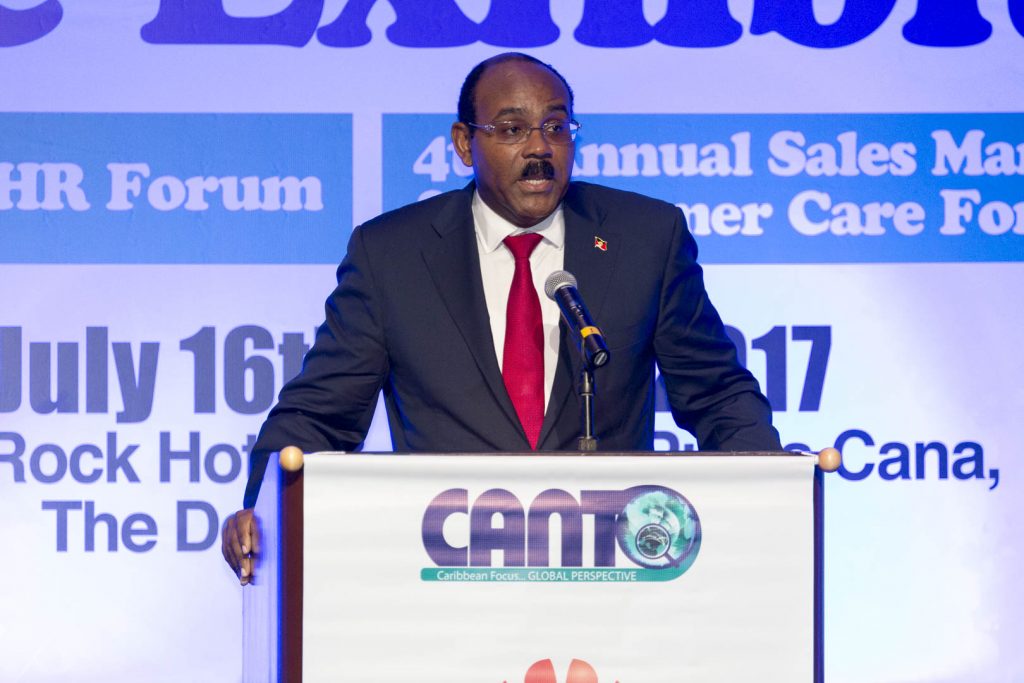 Punta Cana, Dominican Republic 16th July 2017 – The opening ceremony for CANTO's 33rd Annual Conference and Trade Exhibition took place yesterday afternoon before a packed audience which included a cross section of all possible regional stakeholders in ICT at the Hard Rock Hotel & Casino in Punta Cana Dominican Republic.
Ms. Teresa Wankin, Secretary General, CANTO in delivering opening remarks extended her gratitude to all participants for attending the conference and spoke to CANTO's holistic approach to setting agenda with stakeholders whereby all welcome and invited to contribute which results in universal input with CANTO as agent of change. She also underscored the theme of this year's Conference: Reimagining ICT as a Tool for National Growth and Development with focus on Big Data, Internet of Things, and Artificial Intelligence and Cyber security.
Mr. Julian Wilkins, Chair of CANTO, welcomed delegates in Spanish and English. He spoke of his experience working at Antigua Utilities Company in the early days of cell phone usage on the island. Cell phones went from being synonymous with wealth to being accessible to all economic backgrounds.
He noted that today we exist in an environment of "changing landscape of operators from regulated operators to OTTs who are faceless, distant entities which do not invest in the countries they operate in". He also noted the establishment of the Caribbean ICT Collaborative Committee, a regional committee with mandate to make recommendations to governments on key ICT issues.
The Honourable Gaston Browne, Prime Minister of Antigua and Barbuda delivered an engaging feature address. He spoke to the critical nature of ICT in our daily lives to the extent that "the panic of losing one's phone is tantamount to a cyber security threat" recognizing that ICT empowers people, fuels creativity and drives productivity.
In targeting the major players present he noted that "government continues to incentives for operators including tax free holidays" Using an Anecdote of a social media search which saved the lives of two people within hours in his country he noted the critical role of operators' services while at the same time reminding them of their duty "to provide high quality cutting edge services at affordable cost"
Keynote, Charles Che, VP of Caribbean Region, Huawei. spoke of successful partnership with Huawei and operators in the region and the fact that the whole world is in digital transformation. Some key buzzwords included smart education, smart transportation, smart homes and even smart tourism.  He noted the Caribbean has all ingredients for success including culture and natural resources and  Huawei was willing to partner by facilitating long term ICT planning as well as financing and the necessary platform
Remarks were also delivered by Mr. Nelson Guillen, Dominican Republic, INDOTEL who welcomed delegates to his island.
The trade exhibition covers the spectrum of communications technologies, offering in-depth information on the latest developments in voice, data, image, and multimedia captured in 40 exhibits. The conference on the other hand leads discourse on key issues from a panelist of experts on areas such as:
Ministers' Roundtable Discussions on Policy and Regulations
Operators & Regulators Forum
Caribbean Women in ICT Forum
Creative Marketing of Telecommunications Product and Services
11th Annual Human Resource Forum
4th Sales, Marketing and Customer Care Forum
CANTO 2017 and Dominican Republic has it all! Great business, social and networking opportunities.