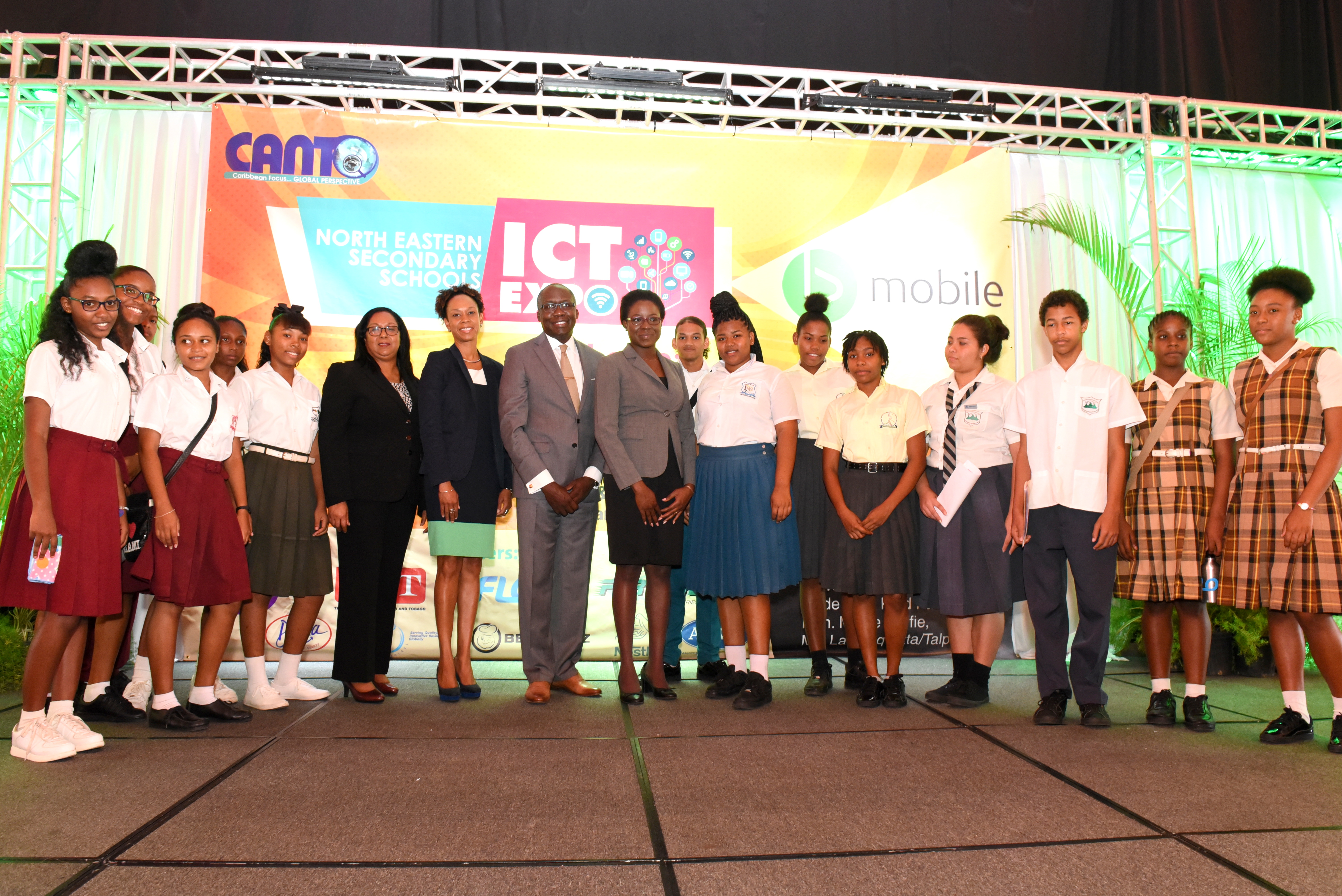 bMobile Partners With CANTO
bmobile partners with CANTO
Thursday, June 8 2017
Extracted from Trinidad & Tobago Newsday
"ICT is like seasoning in food because you must have it. ICT plays in every aspect of everything we do in every industry," said Dr Joseph Jacob, manager Student Recruitment, University of Trinidad and Tobago (UTT).
Dr Jacob was addressing secondary school students from Brazil, Coryal, Valencia, Matelot, Manzanilla, Toco, Guaico and Malabar who attended the 'North Eastern Secondary Schools ICT Expo' at the UTT O'Meara campus on May 31. The expo was hosted by CANTO (Caribbean Association of National Telecommunication Organizations), under the patronage of the Maxie Cuffie, Minister of Public Administration and Communications, and supported by bmobile.
The expo theme, "Demonstrating ICTs as a Viable Career Choice," was geared at stimulating students to consider careers in ICT, and featured several presenters, including representatives from bmobile, UTT, and FLOW. NIHERST, iGovTT and the Telecommunications Authority of Trinidad and Tobago were among the companies with information booths on display.
Teresa Wankin, CANTO's Secretary General indicated that the expo demonstrated the wide range of programmes and career choices in the field of ICT and made students more aware of the ICT-based industries that could be targeted for their career choices.
"The ICT sector is the most creative and resilient sector for employment. It is also the fastest growing sector and the only sector that combines with all disciplines. As we move toward an ICT-based knowledge society, we are living in exciting times where creativity and innovation provide entirely new ways of working, interacting and building. The future is bright for you. This expo brings you opportunities that no other generation enjoyed." Camille Campbell, VP Marketing, TSTT explored how ICT has transformed the global landscape and has proven to be a catalyst for innovation, diversification, productivity, national development and social transformation. Indicating that trends in the job market reflect double digit growth for ICT careers, Campbell added, "At bmobile we are proud to be that catalyst in Trinidad and Tobago.
bmobile remains committed to investing in the necessary infrastructure that will allow Trinidad and Tobago's most valuable resource, you, to realise your full potential." Minister Cuffie noted the equalising impact of ICT on rural areas and the impact on economic growth for Trinidad and Tobago. "For developing countries like Trinidad and Tobago, ICT has the potential to increase access to and improve the relevance and quality of your education, thus presenting a potentially equalising effect in developing countries for the youths in rural areas.
Today's event is about exposing you to the endless possibilities through technological literacy." Dr Jacob demonstrated the numerous applications of ICT in the world of work, as well as everyday life, by using examples that included airplanes' autopilot, logistics planning and maintenance functions, smart cars, smartphones, smart buildings, and e-health applications which allow remote consultations and surgeries from around the world. He told the attendees, "Technology is changing the world and is in everything we do today. Today is your opportunity to become well informed." His colleague, Professor Rodney Rambally, from the UTT Centre for ICT, discussed the various UTT bachelors and masters degrees, diploma and certificate programmes available.
Guest speaker Petriann Trancoso, a Big Data and Cloud Computing Expert and Database administrator, used online shopping and the impact it was having on the local retail industry to discuss the pervasiveness of ICT in all industry sectors worldwide and the equalising effect of ICT for local businesses. She stated that local companies must compete globally to remain viable and they need ICT to do this.
The feedback from some of the participants showed that the expo was appreciated. Gail Pierre-Ashing, a guidance officer at Brazil Secondary said the expo was quite informative. "This gave the students the opportunity to broaden their perspective beyond the traditional choices and to include ICT as one of their career options. I also enjoyed visiting the booths which presented more in-depth exposure to some of the topics discussed." One of her Form Three students, Treangelo Gayah, agreed and said, "I want to be a PE teacher and ICT has a lot of relevance in this field so this expo was quite educational." Form Four Valencia Secondary student, Kemone Perez, added, "I learnt about the different aspects of ICT in everyday life and how many different jobs are available. I am a business student but this expo made me more interested in the ICT
http://www.newsday.co.tt/0,1.html