CANTO Launches 12th Annual WTISD – Video Competition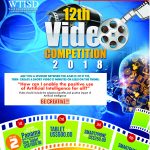 World Telecommunication and Information Society Day (WTISD) spearheaded by the International Telecommunication Union (ITU) will be observed on Tuesday, May 17th 2018.  According to the ITU "The theme for WTISD 2018 will focus on the potential of Artificial Intelligence (AI) to accelerate the United Nations' Sustainable Development Goals (SDGs). The 2018 theme will allow other key stakeholders to focus on the opportunities for how AI can help accelerate the achievement of the SDGs by 2030.
To commemorate this occasion CANTO will stage its 12th Annual World Telecommunication and Information Society Day – Video Competition under the theme:   "How Can I Enable the Positive Use of Artificial Intelligence For All?"
Students from ages 15 to 21 are invited to create a three (3) minute video on any or all subsets of the theme.  Students are encouraged to use their creativity to demonstrate how they can use Artificial Intelligence (AI) to positively impact their respective cities, countries or region.
The competition will be staged throughout the region among active member countries of CANTO.  Entries received on or before May 1st, 2018 will be forwarded to a panel of experts in the field of telecommunications and education, to be judged on creativity, originality, message content and technical organization.  All finalists will be given an opportunity to gain up to ten percent (10%) of their final score from social media votes (Facebook).
The top three (3) videos (in order of points) will be selected and awarded the following prizes:
Prizes
1st Place:
Trip for 2 to attend CANTO 2018 in Panama
Hotel accommodation – (double occupancy)
a tablet plus US$1000.00
2nd Place:
3rd Place
A smartphone plus US$250.00
Winning videos will be posted on CANTO's website on Tuesday May 17th, 2018.  Students are encouraged to visit http://canto.org/competitions/wtisd-video-competition/ for more information.
CANTO – committed to bringing technology to the children of the Caribbean and Americas
End
CANTO is recognized as the leading trade association of the ICT sector for shaping information and communication in the Caribbean. Founded in 1985 as a non-profit association of 8 telephone operating companies, CANTO has now grown to over 125 members in more than 34 countries.  A Board of Directors appointed by the membership directs policy of the Association. This strategy is executed by the staff of a permanent Secretariat based in Trinidad and Tobago.