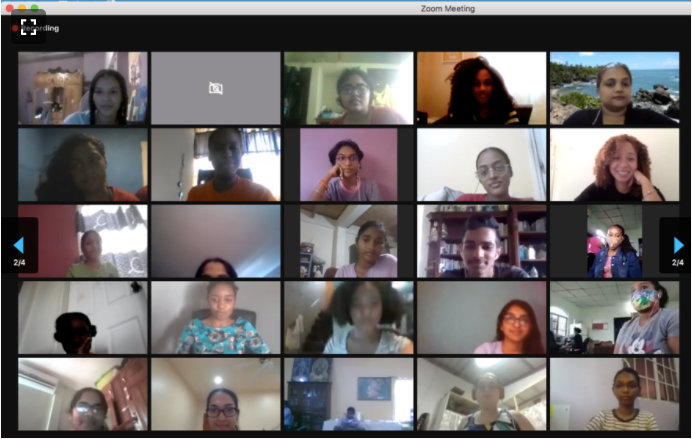 Flow Supports Tech4Girls Workshop
PORT OF SPAIN, Trinidad (November 27th, 2020) – Technology will always provide an opportunity for progress and success regardless of the circumstances. Take for example, the circumstances that have been meted upon all for us as a result of the current COVID-19 pandemic. Technology can be used to adapt.
At a recent workshop on skills building – a collaborative effort between EQUALS Global Partnership for Gender Equality in the Digital Age, Caribbean Girls Hack, CANTO and RSC Tech Clubs – young girls were taught how to be self-sufficient through technology.
The session, which took place virtually and physically across parts Trinidad on November 21, was co-sponsored by Flow.
Flow continues to support the development of the next generation of IT professionals.
Understanding the role technology plays in national and global development, the premier telecommunications and entertainment provider maintains its thrust in education, to ensure that there is limitless access to learning.
Under the theme, "Introduction to Tech through eCommerce," the aim of the workshop was to inspire and familiarize young girls and women with career opportunities in the tech sector, especially in the local and regional eCommerce industry.
"Building an online store is a great way to get initiated in technology and I am sure that you all can identify with eCommerce applications, since online shopping activity has doubled with the pandemic," remarked Teresa Wankin, Secretary General of CANTO.
"There is a strong, smart remarkable young girl in each one of you participating in this workshop. The local and regional eCommerce industry need girls like you with your young talent and brilliant minds."
The workshop looked at developing an online store, customizing elements for the site. The girls garnered skills – from consideration of name, page design, display of products, and payment. While it may seem easy on paper, the task required to develop ecommerce needed dedicated time and effort.
At the end of the event, the partners were pleased with the outcome.
Bridget Lewis of Caribbean Girls Hack said she was grateful for their support. "I praise the commitment to work with young girls in the Caribbean, allowing them to dream. This has created opportunities for the girls, to see themselves in ways they did not conceive before," she said.
While Country Manager for Flow Trinidad, Kurleigh Prescod noted that workshops like these offered opportunity for growth.
"Technology is more than accessing social media. Technology is now part of our way of life. This workshop was one way for young girls to access possible opportunities in this field." Prescod said.