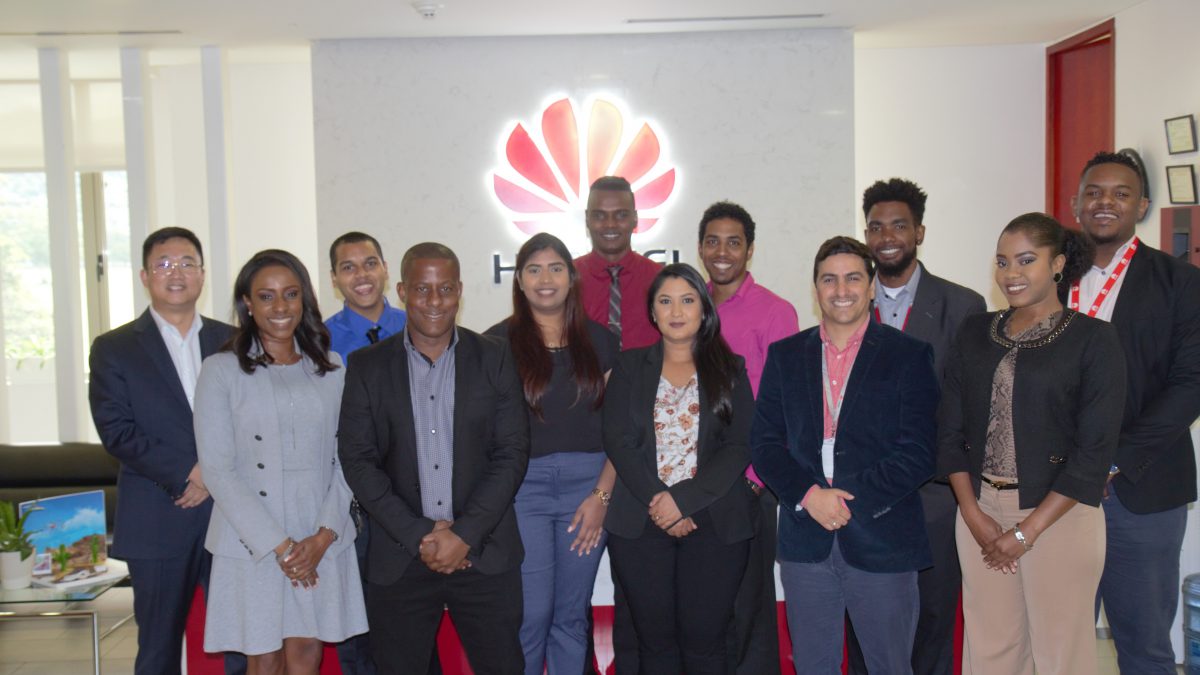 Huawei hosts Internship Recruitment Event for T&T Graduates
Huawei, a leading global ICT solutions provider, hosted a local Graduate Virtual Recruitment Event on Monday 24th May, as part of the company's 'ICT Talent Development' scheme in Trinidad and Tobago to attract talent to its Huawei T&T Graduate Internship Programme. Now in its second year locally, the Internship Programme will see nine T&T university graduates recruited to take up roles in the local business operations.
The event, which was held for the first time, hosted STEM final year and recently graduated students from the leading T&T Universities and tertiary institutions. Because of the ongoing pandemic, Huawei promoted the event by working together with the Universities and other stakeholders to directly reach the targeted group.
Huawei T&T Internship Programme
The recruitment event follows on from the successful start of the programme, which in its first year in 2019 provided training and employment for four STEM graduates. The new recruits will be offered a six-month paid programme of training, mentoring, role rotation, and project responsibilities aligned with their professional goals. This year, Huawei also has included internship positions in the areas of Finance and Procurement. The four graduates from 2019's intake included three individuals who were part of Huawei's "Seeds for the Future Programme" in 2018 – a testament to the company's commitment to develop the local ICT talent, enhance knowledge transfer and promote greater understanding and interest in the ever-evolving ICT sector. Two of the "Future Seeds" interns were able to secure employment positions at Huawei at the end of their internship period.
Attendees at the event were able to learn more about Huawei's work globally and in T&T, hear one-on-one from previous interns' experience at the company, and interact directly with Huawei's Human Resources to better understand the programme. Following this event, Huawei will be accepting applications to the programme, which is expected to begin in July 2020, and will be a hybrid of both on-site and remote working in order to accommodate current pandemic conditions.
Jeff Jin, CEO of Huawei T&T said: "The challenges of the pandemic have accelerated the digital transformation agenda for all countries, economies and sectors globally. The same is for T&T. As a global leader in ICT, Huawei understands that ensuring we have the necessary skills and talent pool to address this transformation is critical. That is why Huawei launched the T&T Graduate Internship programme in 2019 and also our 'Seeds for the Future' programme – which is in its sixth year locally, allowing 50 local ICT students to visit Huawei's Shenzhen campus to receive ICT training from some of the best professionals in the industry."
He continued: "We want to continue to work together with government, Universities and all stakeholders to encourage ICT talent development in T&T and encourage STEM students to pursue STEM careers. We believe this can help greatly in T&T's Digital Transformation efforts."