Representation & Equality In the Workplace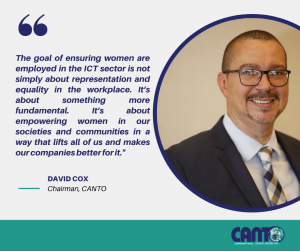 The goal of ensuring women are employed in the ICT sector is not simply about representation and equality in the workplace. It's about something more fundamental. It's about empowering women in our societies and communities in a way that lifts all of us, and makes our companies better for it.
Studies show that enabling young women to get into the ICT workplace, can have a transformative effect on their families and the countries in which they live. Corporations benefit from having more women in positions of leadership, and employees generally are more productive, and feel better, about working in gender balanced environments.
So, hiring more women in the ICT sector is a win-win for all concerned. The companies that are concerned about this, and indeed have a focus on diversity generally, have happier, more engaged employees, are more attractive places to work, generally perform better than those without that diversity, and are also doing more to contribute to their communities than those companies who don't.
That's why it's so critically important for us at CANTO, to do the work to try to understand, how we're doing as a region, in terms of the participation by women in the ICT industry. By filling out this survey, you're contributing to the development of critical knowledge, about how companies in the region are doing compared to other parts of the world, and you may also be enabling the collection of critical information that might benefit your own company. This is a really critical issue for the Caribbean and Latin America. And by participating in the survey, you may get some insight into how your own organization is doing in comparison to the region, and possibly what steps your business may need to take to improve its own performance. Above all, the information you provide will enable CANTO to develop a baseline against which our efforts to promote employment by women in the sector can be measured against.
Trust me when I say, this is super important world, and your organization's responses, really matter.
Finally, recent data suggests that one of the most devastating consequences of the pandemic has been that droves of women have left the workplace, potentially for years and in some cases, forever.
If this trend isn't addressed, it will have devastating consequences for our corporations, our countries, and the world at large.
This is yet another reason to participate in this survey. We desperately need to understand how the pandemic has impacted our women in the region. That information will be invaluable to figuring out how to reverse this trend, in poor and developing countries in the Caribbean and Latin America.
So, you could help make a huge difference by helping CANTO complete the survey, and I hope you will take some time to participate.
Together, we can start taking the steps to make sure our daughters and sisters and girls of all ages and abilities, take their rightful place as co-equal leaders in the industry that we love.
Click here to complete the Survey!