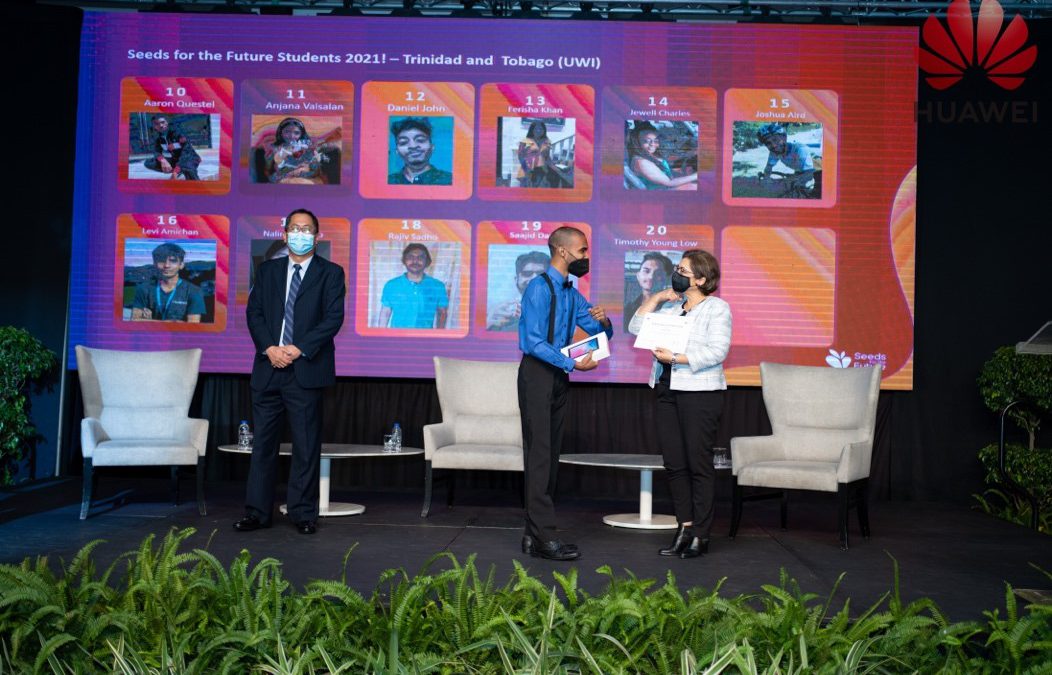 T&T's Huawei Seeds for the Future Graduation at Digital T&T Day 2021
20 university students from the University of the West Indies, St. Augustine and the University of Trinidad and Tobago have graduated from Huawei's 2021 Seeds for the Future Programme, with 40% female participation
Minister of National Security Fitzgerald Hinds, PS in the Ministry of Education Kurt Meyer, TSTT CEO Lisa Agard and UWI Senior Lecturer, Dr. Kim Mallalieu presented graduation certificates to the UWI and UTT students, who also received Huawei tablets
The Seeds for the Future initiative supports T&T's digital transformation objectives and its need for world class ICT human resources.
Twenty university students in the fields of computer science, math and engineering received certificates and Huawei tablets to commemorate their participation in the 2021 Huawei Seeds for the Future ICT study programme.
The ceremony took place on Wednesday 17th November 2021 at the Hyatt Regency, and was part of the first Huawei Digital T&T Day 2021 which saw a number of speakers discussing how to build a digital T&T and related key projects and achievements.  Speakers included Minister of National Security Fitzgerald Hinds,  Permanent Secretary in the Ministry of Education Kurt Meyer, and ICT Advisor, Devindra Ramnarine of the Ministry of Digital Transformation.  An all-female panel on the importance of stakeholders in Digital Transformation was led by TSTT CEO Lisa Agard, Senior UWI Lecturer, Dr. Kim Mallalieu and Secretary-General of CANTO Teresa Wankin.  Students also gained insights on the importance and challenges of digital transformation from Huawei experts and the GSMA Latin America and the LATAM Alliance.
During the Seeds for the Future programme, which ran from October 25th  – November 1st,  students were able to take a virtual tour of Huawei's state-of-the-art Exhibition Halls and engaged in hands-on, practical exercises with ICT training in new technologies. They were also able to interact with and learn from top industry experts on a wide range of topics, from ICT Advanced Cloud Computing, 5G, IOT Technologies, Smart Homes, Smart Cities and Cyber Security to the Evolving Role of ICT in the Economy, Digital Transformation, Strategic Leadership, Personal Effectiveness and Culture Awareness.
The students also participated in the newly launched, Tech4Good Group Project, which saw students formed into teams to create  solutions that would leverage technologies to address a social or economic issue affecting their country. Each group worked with mentors to provide guidance on their projects.
The programme also focuses on inclusiveness to encourage more female students to take part. This year, 40 % of the local participants were female.
To date, 70 T&T students have participated in Seeds for the Future, now in its 6th year in T&T, with 2021 marking the 2nd year the programme was held virtually.  The programme is now an annual emblematic educational project in T&T, carried out under an MOU between Huawei and the UWI, St. Augustine and UTT. It is currently carried out in 126 countries, including T&T.
Overall, 52 Caribbean students from Jamaica, Trinidad and Tobago and Suriname joined a cohort from Ghana to take part in the eight-day immersive study and cultural exchange programme.
The Seeds for the Future global initiative is part of Huawei's Talent Development Plan, which aims to globally invest in digital talent development and build digital skills and literacy – the cornerstones of building a digital economy.   It was first launched in Thailand in 2008, born out of Huawei's recognition of  the deepening global ICT skills shortage, and the company's dedication to helping the world solve this problem.
This year marked the expansion of the programme to 10 countries in Central America and the Caribbean, reflecting Huawei's commitment to its mission to provide educational opportunities for young people in the Caribbean region, and make available the necessary tools to help the region's technological development and reduce the digital divide.
Globally, through this programme, Huawei has trained more than 9,000 ICT university students in more than 130 countries worldwide.