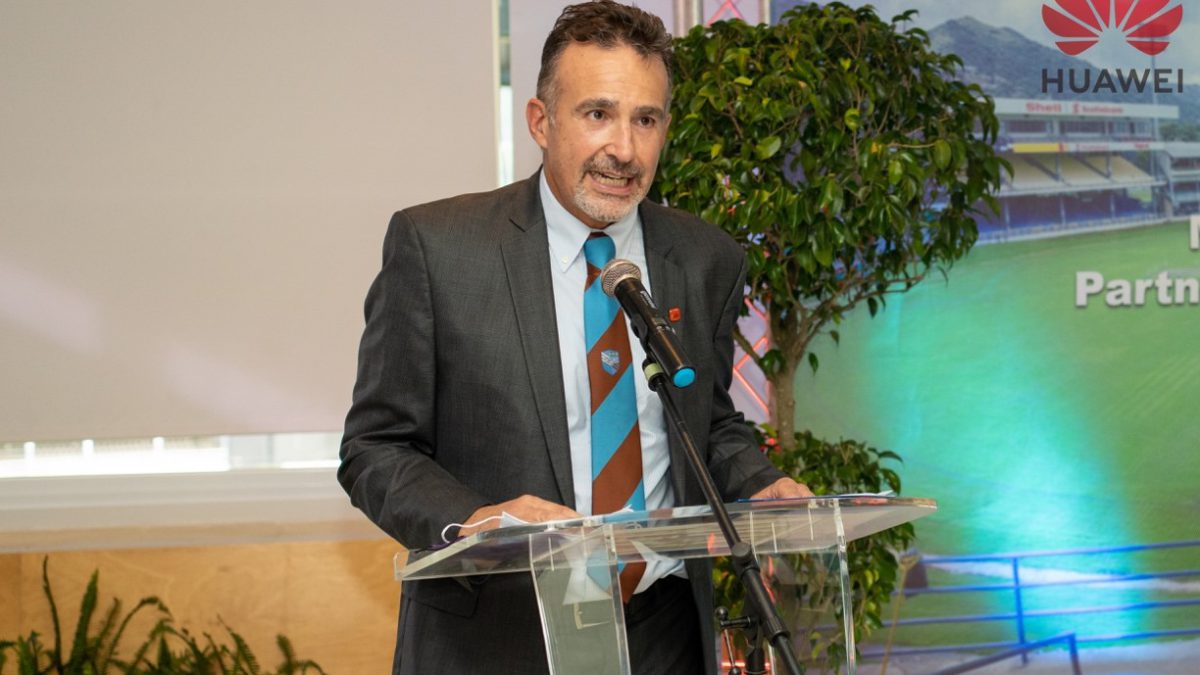 Upping the Game: Huawei and QPCC Create First Wi-Fi 6 Park at the Oval
Generations of both local and international cricket and sporting fans have enjoyed the Queen's Park Oval as one of the legendary stadia in the game. It is also equally known as a prestigious and premier event facility in the heart of Port of Spain. And soon, both groups of patrons will stand to benefit from fast, public Wi-Fi in the stands, corporate boxes, and surrounding grounds as the facility moves to embrace new technology to keep pace with the demands of hosting modern sporting and entertainment events.
On Wednesday 17 November 2021, the Queen's Park Cricket Club (QPCC) signed a Memorandum of Understanding for Technical Cooperation and Partnership for Digital Innovation with global technology provider, Huawei to create the first Wi-Fi6 enabled park in T&T.
Wi-Fi6 is Huawei's newest offering for the next generation of Wi-Fi, and the QPCC is looking forward to the use of this solution to help solve the challenge of delivering high-speed, reliable internet coverage to a high density and high capacity stadium, using the latest connectivity technology.
President of the Queen's Park Cricket Club, Dr. Nigel Camacho noted that the move is just the beginning of a long and fruitful relationship between the company and the sports club.
"As the Club prepares to move forward with digitisation, the QPCC is delighted to welcome this agreement with a global technology leader. The pandemic has forced many to fast forward their plans to modernise and digitise. This might be the only positive thing coming out of this global disaster we currently face. But we are confident that this is a step in the right direction which includes the introduction of Wi Fi 6 at the venue."
Wi-Fi 6 is designed for today's complex and fast-changing sports and entertainment environments with a range of powerful features, including large bandwidth, high concurrency and low latency, which guarantees a seamless and efficient network.
With Wi-Fi 6 soon to be available at the venue, fans can looking forward to tuning in to commentary and coverage of the games live from their smart devices and keep connected despite the more significant attendance numbers associated with big games. Under the three year MOU, the Queen's Park Oval will benefit by leveraging wireless innovation and experience in ICT in areas such as networking, wireless infrastructure, intelligent collaboration and security technologies. Wi-Fi 6 offers improved bandwidth requirements for match days in which spectators, media, and fans can use the network alongside organisers for aspects such as web browsing, instant messaging, and live streaming during a cricket game. Entertainment patrons benefit by being able to switch to Wi-Fi in times when cellular networks can get congested at peak time events such as Carnival fetes which are popular at 'the Oval'.
Dr. Camacho also noted it would increase the venue's appeal as an entertainment facility, which would allow promoters to benefit from the use of the technology to live stream events internationally while also enhancing the experience of patrons at the venue.
Clark Cheng, President, Central America and the Caribbean, Huawei, pointed out that this transformation initiative for 'one of the most historic sporting venues' is also in line with the agenda of the Government of Trinidad and Tobago, with digital transformation geared as a means towards economic growth and diversification. Tudor John, Enterprise Director for Huawei Trinidad and Tobago, also spoke and illustrated how the introduction of Wi-Fi 6 would impact those who love the beautiful game.  Jeff Jin, CEO, Huawei Trinidad and Tobago was also in attendance.
Dr. Camacho thanked Mr. Chen and Mr. Jin of Huawei Technologies Limited for partnering with the QPCC and said that this was "just the start of something very special".
About Huawei
Founded in 1987, Huawei is a leading global provider of information and communications technology (ICT) infrastructure and smart devices. We have more than 197,000 employees, and we operate in more than 170 countries and regions, serving more than three billion people around the world.
Our vision and mission is to bring digital to every person, home and organization for a fully connected, intelligent world. To this end, we will drive ubiquitous connectivity and promote equal access to networks; bring cloud and artificial intelligence to all four corners of the earth to provide superior computing power where you need it, when you need it; build digital platforms to help all industries and organizations become more agile, efficient, and dynamic; redefine user experience with AI, making it more personalized for people in all aspects of their life, whether they're at home, in the office, or on the go. For more information, please visit Huawei online at www.huawei.com or follow us on:
http://www.linkedin.com/company/Huawei
http://www.facebook.com/Huawei
About the Queen's Park Cricket Club
The Queen's Park Cricket Club was established in 1896 and has a seating capacity of 20,000; and remains the record holder for most Test matches played at any grounds in the Caribbean.