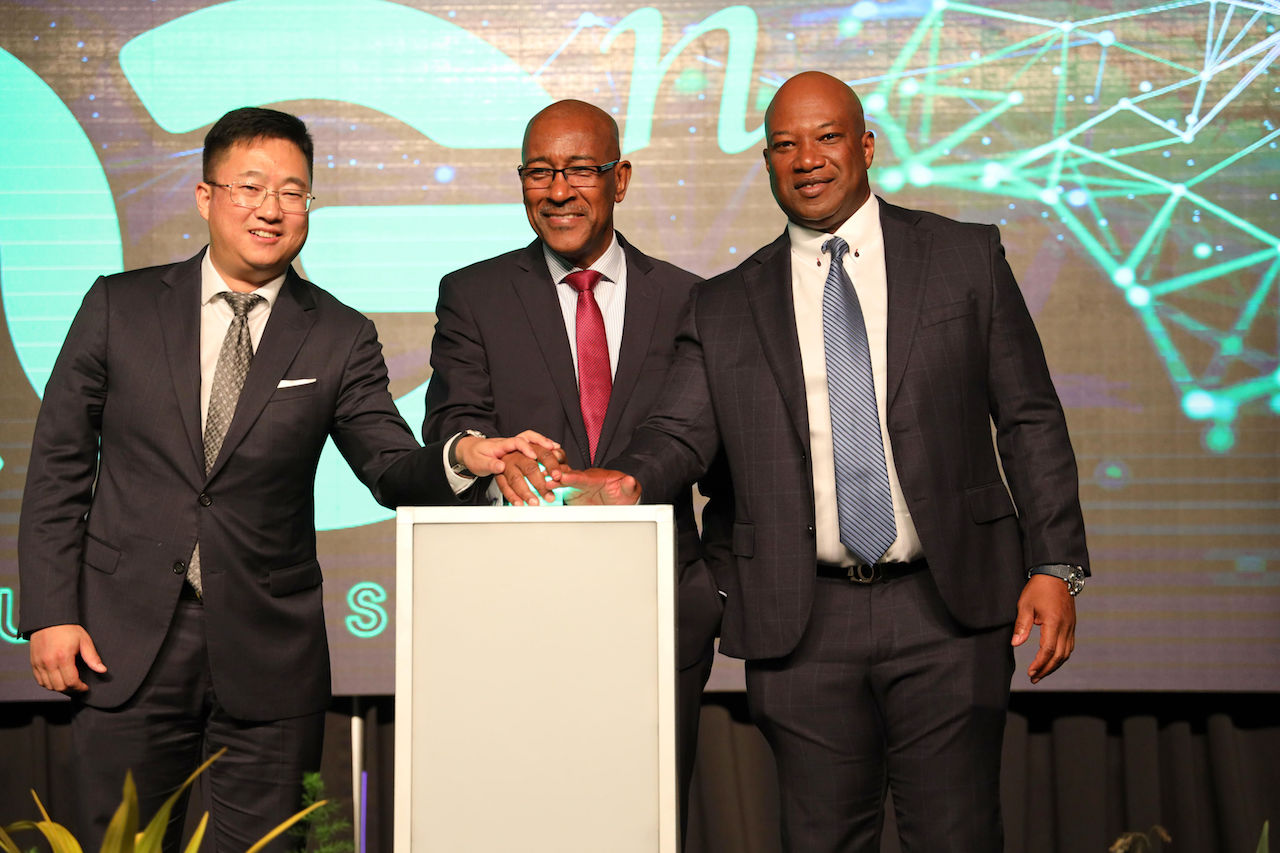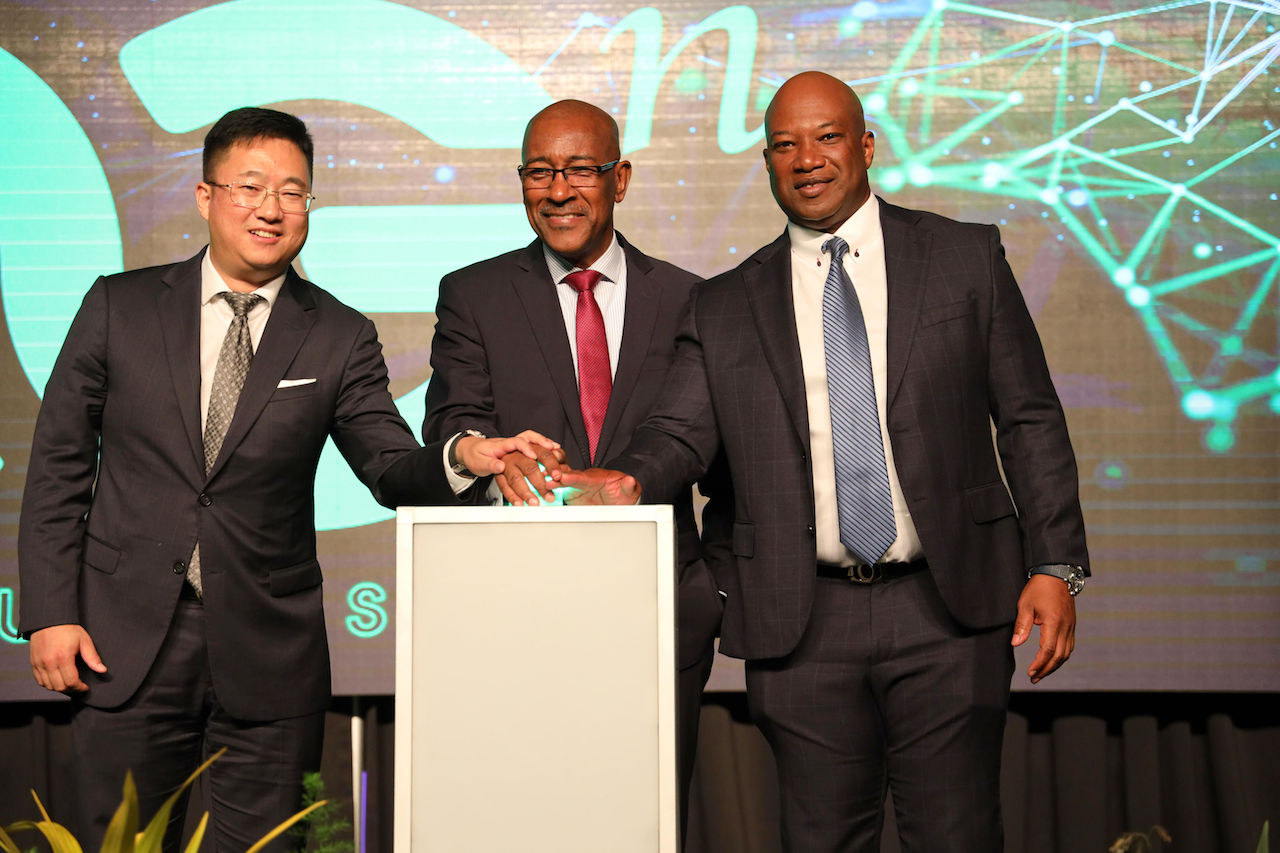 bmobile launches 5G in T&T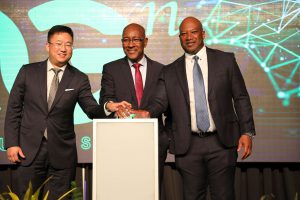 PORT OF SPAIN, Trinidad and Tobago. Friday, December 06, 2019 — bmobile, in partnership with technology giant, Huawei, has brought Trinidad and Tobago one step closer to achieving developed nation status with the launch of the country's first ever 5G network. The historic moment, themed 'The Future is Now', took place at the Hyatt Regency on December 4.
5G has been commercially launched globally since April 2019. T&T has joined other countries like the United Kingdom, Spain, and territories in the Middle East and Asia, where leading operators have been working aggressively to make 5G deployment a reality.
At the launch, TSTT's CEO, Dr. Ronald Walcott stated that the deployment of 5G was a significant achievement for both the Company and the country as it represents a turning point in the way we live and work. Adding that 5G catalyzes the fourth Industrial Revolution by enabling a more connected, intelligent world, Dr. Walcott noted, "As the national provider, bmobile is committed to ensuring that everyone – and every business –  in Trinidad and Tobago has access to high-speed broadband. Our national broadband strategy is hinged on bringing this to fruition. With its exponentially high bandwidth, low latency and ability to connect up to 1 million devices per square kilometer, 5G offers multiple benefits to a wide cross-section of industries from manufacturing and healthcare to media, agriculture and education. As the only operator with a fixed wireless access network, bmobile is proud to offer this to Trinidad and Tobago."
Walcott stated that in addition to transforming all aspects of customer life, 5G is poised to help businesses supercharge their operations by reducing costs, increasing efficiency and flexibility and accelerating innovation. In the first phase, 5G will be accessible in areas of economic activity, industrial estates, city centres and on University and government campuses. The areas identified include Port-of-Spain, San Fernando, Pt. Lisas and Arima.
Minister of Public Utilities, Senator the Honourable Robert Le Hunte commended bmobile and Huawei for their partnership. He stated that the duo has delivered yet another ground-breaking introduction to Trinidad and Tobago, allowing TSTT to move swiftly ahead with its strategic plan to transform into an agile, 21st century broadband company. Focusing on the benefits to the people of T&T and 5G's ability to transform government, Senator Le Hunte stated, "5G technology provides the fertile soil out of which we can grow 'smart cities', taking our 'whole of government' approach to an entirely new level. This technology is a driver of sustainable economic development, supporting many applications such as smart metering for water and electricity, smart buildings which conserve resources and the wider integration of all arms of Government operations." He added that when used in tandem with the government's broader vision, 5G will facilitate a new phase in the country's development where the people and institutions in T&T are given the necessary support to achieve their true potential.
Kim Ki Yeon, Managing Consultant and expert on 5G, presented Global Trends in 5G at the event and said that these commercial launches have been able to drive changes in the way people live, and have the potential to create new business opportunities in the vertical sectors that would drive an entire 5G ecosystem. She said that research has shown that several sectors and industries, including Agriculture, Health and Hospitality are expected to experience growth in 5G Enabled Global Sales Activities by 2035. This, she said can be done based on government and industries leveraging on 5G's competitive advantages – mainly security, capacity, latency and reliability.
"In T&T", Ki Yeon said, "we believe 5G should be the very technology platform to accelerate a 5G enabled economy now and encourage co-creation in the open ecosystem to utilize the full potential of 5G not only for consumers but also for industries."
This was demonstrated later on at the event, where One Caribbean Media Group (OCM), via CCN TV6, partnered with bmobile and Huawei to show how the media industry can transform its operations, with the first live broadcast of the event over a 5G network. Viewers at the Hyatt and the wider public watching the TV6 broadcast were able to see a 15 minute live broadcast, showing the capabilities of the 5G equipment which reduced set up time to just minutes, and provided such low latency over the network that it eliminated delays in transmission.