'NEW' C&W Communications Poised to Support Region to Achieve Technology Leadership
SAN JUAN, PR, August 3, 2016 – "Cable & Wireless Communications, (C&W), is now part of Liberty Global, the world's largest international cable television company. Liberty brings global strength, innovation and experience, and combined with the deep historic roots, and long tradition of Cable and Wireless, along with the spirit of entrepreneurship of the former Columbus Group, creates a telecom leader that will continue to transform the region through sustained investment and development"; so said John Reid, acting CEO C&W Communications, at the recently held 32nd Annual CANTO 2016 Conference and Trade Exhibition in San Juan, Puerto Rico.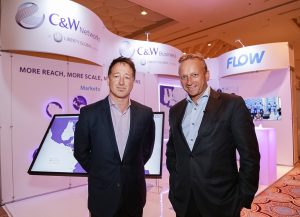 John Reid, CEO C&W Communications and Manuel Kohnstamm SVP and Chief Corporate Affairs Officer, Liberty Global
Speaking to over 300 delegates at the Ministerial Roundtable at CANTO, Reid indicated that Liberty offers C&W even greater potential to become a technology leader in the region. The Company plans continued investment in its telecoms infrastructure to provide "faster, better and more extensive digital experiences across the Caribbean region," said Reid. "In the last year alone, C&W re-invested 22% of our revenue on capital expenditures, in terrestrial and sub-sea fiber capacity, new products and applications, as well as next generation mobile networks across the region. Being part of the Liberty Global family provides an even greater opportunity to bring world-class innovation and content to the region to facilitate and foster economic and social growth, creativity and wellbeing across the Caribbean."
Reid also stressed the need for a group effort to ensure that the Caribbean harness the positive power of the change to deliver positive transformations for all our constituents. "We have an incredible chance through our infrastructure to bring the Caribbean to the world, and the world to the Caribbean. All of the building blocks are being put in place; it is critical that we come together to solve the critical issues that face our industry by investing in our infrastructure, in our people, and in our technology to fundamentally enrich the lives of every Caribbean citizen. Now is not the time to build walls between us; now is the time to promote investment, competition and an enabling regulatory environment that works for our region's future," explained Reid.
To this end, C&W will continue to play its part to deepen its stakeholder relationships and work towards fulfilling its mission of 'Connecting Communities and Transforming Lives.' The Company finds its motivation in the inherent challenges of technology diversification – it is the source of its competitive drive to continuously learn and invest in the technology that enables the region's digital revolution.
"The rate of development in our sector continues to accelerate, whether it's new technology and new standards, the emergence of new apps, unique programming and exponential data growth, and as such our strategies and business models must also continue to develop. In every way the industry is moving forward – and Cable & Wireless Communications is at the forefront of that change. We are investing in the digital highways of the 21st century; whether helping to connect customers, entertain them in their homes, or enable their businesses, we will continue to bring incredible innovation and benefits to our region."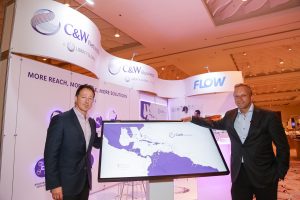 John Reid, CEO C&W Communications and Manuel Kohnstamm SVP and Chief Corporate Affairs Officer, Liberty Global
CANTO, recognized as the leading trade association of the ICT sector for shaping information and communications in the Caribbean, brings together industry professionals, communications ministers and other stakeholders who help to influence the innovation and development of ICT solutions for the benefit of the region.
— ENDS —
Visit us at CANTO
C&W Networks will be a major participant during the CANTO 32nd Annual Telecom Conference & Trade Exhibition, Sheraton Puerto Rico Hotel & Casino. Please visit us at booth No. 33 & 34.
About C&W Communications
CWC is a full service communications and entertainment provider and delivers market-leading video, broadband, telephony and mobile services to consumers in 18 countries. Through its business division, CWC provides data center hosting, domestic and international managed network services, and customized IT service solutions, utilizing cloud technology to serve business and government customers.
CWC also operates a state-of-the-art submarine fiber network – the most extensive in the region – in over 30 markets.
Learn more at www.cwc.com, or follow C&W on LinkedIn, Facebook or Twitter.
About Liberty Global
Liberty Global is the world's largest international TV and broadband company, with operations in more than 30 countries across Europe, Latin America and the Caribbean. We invest in the infrastructure that empowers our customers to make the most of the digital revolution. Our scale and commitment to innovation enable us to develop market-leading products delivered through next-generation networks that connect our customers who subscribe to over 59 million1 television, broadband internet and telephony services. We also serve over ten million1 mobile subscribers and offer Wi-Fi service across six million access points.
Liberty Global's businesses are comprised of two stocks: the Liberty Global Group (NASDAQ: LBTYA, LBTYB and LBTYK) for our European operations, and the LiLAC Group (NASDAQ: LILA and LILAK, OTC Link: LILAB), which consists of our operations in Latin America and the Caribbean.
The Liberty Global Group operates in 12 European countries under the consumer brands Virgin Media, Ziggo, Unitymedia, Telenet and UPC. The LiLAC Group operates in over 20 countries in Latin America and the Caribbean under the consumer brands VTR, Flow, Liberty, Mas Móvil and BTC. In addition, the LiLAC Group operates a submarine fiber network throughout the region in over 30 markets.
For more information, please visit www.libertyglobal.com.
Footnote1: Subscriber statistics for Liberty Global (including the LiLAC Group) and CWC are as of March 31, 2016 and December 31, 2015, respectively, and are based on each entity's subscriber counting policies. CWC's subscriber counting policies may differ from those of Liberty Global. Accordingly, the combined subscriber statistics are not necessarily indicative of the actual number of subscribers to be reported by the combined operations once CWC conforms to Liberty Global's subscriber counting policies.
C&W Communications
Investor Relations:
Kunal Patel
+1 (786) 376 9294
Media Relations:
Wendy McDonald
+1 (868) 482 2477