Haiti is Home to CANTO's 32nd AGM
MEDIA RELEASE
FOR IMMEDIATE RELEASE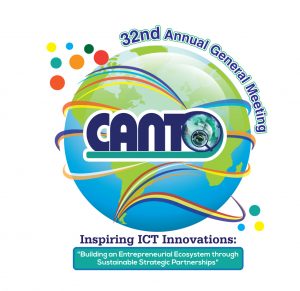 Amidst the political unrest in Haiti, CANTO and Digicel Haiti forged ahead to co-host the 32nd Annual General Meeting (AGM) of CANTO from the 31st January – 4th February, 2016. CANTO Secretariat reassured the delegates of their safety by informing all of the security arrangements in place. Reconnaissance Group – a highly respected international Risk Management firm was contracted to provide secured transfers from the Toussaint L'Ouverture International Airport to the Marriott Port-au- Prince Hotel and return.
The 32nd AGM commenced with the Media Conference and Opening Ceremony on Sunday the 31st January, 2016. The Opening Ceremony which was attended by well over 90 delegates witnessed riveting speeches and remarks both in French and English from the likes of Mr. Julian Wilkins, Chair of CANTO Board of Directors, Mrs. Teresa Wankin, Secretary General Ag., CANTO; Mr. Jean Marie Guillaume, General Director, CONATEL; Mr. Gerard Laborde, Head of Corporate Affairs, Digicel Haiti and Ms. Rochelle Cameron, Director, CANTO Board of Directors.
Mr. Wilkins in his welcome remarks stated: 'It is for me an absolute pleasure to be hosting this AGM in Haiti for the first time'. He went on to remind the delegates that "Very challenging times lay ahead. Network operators are facing not only the onslaught of a rapidly evolving converged environment which creates further competition, but also a decrease in revenues as a result of over-the-top players. This is having a major impact on the operators. At the same time, we are required to spend vast amounts of capital to deliver high speed Broadband to all of our Caribbean consumers. Our CANTO organization, therefore, is even more relevant today as it provides an opportunity for establishing common ground to meet the challenges that lie ahead".
CANTO will direct its 32nd AGM and 2016 calendar of activities on the theme of: "Inspiring ICT Innovations: Building an Entrepreneurial Ecosystem through Sustainable Strategic Partnerships. The meetings of the eight working committees and viewing of the Mini Expo are currently underway and this will set the stage for the 32nd AGM.
End
———————————————————————————————
CANTO is recognized as the leading trade association of the ICT sector for shaping information and communication in the Caribbean. Founded in 1985 as a non-profit association of 8 telephone operating companies, CANTO has now grown to over 107 members in more than 31 countries. A Board of Directors appointed by the membership directs policy of the Association. This strategy is executed by the staff of a permanent Secretariat based in Trinidad and Tobago