Huawei Talks Digital Transformation – No Longer an Option
[Port-of-Spain, September 1, 2020]
Strategies to help societies welcome and maximise digital transformation was at the centre of a discussion led by Huawei's Chief Technology Officer (CTO) of Government Solutions for Huawei Latin America, Luis Adolfo Guillot Duenas, on August 25th 2020.
Guillot shared his perspective on Critical Success Factors for Governments during the current pandemic at a webinar hosted by CANTO on Government Digital Transformation. It was attended by some 70 senior officials from around the Region and the US representing mainly ICT companies and Government Ministries.
CANTO Secretary-General Teresa Wankin, who opened the webinar, said: "The Covid-19 pandemic has created a fresh mandate for digital transformation in all industries…Governments and the Private Sector have to continuously explore and collaborate on technology solutions and policy initiatives to develop an environment that would spur economic growth and innovation in all sectors." She described Huawei as a key partner of CANTO and emphasised the importance the Association placed in promoting technological solutions for the Region.
Huawei has been leveraging its technology to help countries in Latin America and around the world find solutions to the problems created by the pandemic. This includes AI-assisted diagnostic systems, emergency hospital solutions and thermal temperature measurement of large groups to reduce long queues at airports, malls and other venues.
AI-Assisted Diagnostics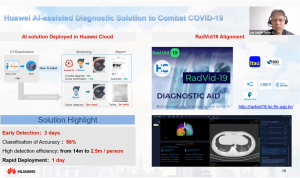 Huawei's AI-assisted diagnostic fortifies the hospital capabilities to handle the growing number of Covid-19 cases with faster and more precise diagnostics. Guillot explained: "Doctors, on average, may take 12 minutes to analyse images of a patient, plus the time to write the report of their findings. With the AI-assisted diagnostic this will take on average 10 seconds of analysis plus two minutes for the confirmation of the doctor. This has made it possible to more rapidly and more precisely process and correctly identify Covid-19 patients."
The AI-assisted diagnostic system has been deployed in a few Latin American countries over the past few months "with positive results in the evaluation and adoption of this new, paradigm-changing technology," he added.
Online Learning
Given the current urgent challenges faced by many countries in the Caribbean and globally as to the successful adoption and implementation of education from home as many school facilities remain closed, this topic was of particular interest to many participants of the forum.
Guillot said Huawei has been working with Internet Service Providers (ISPs) in many communities in Latin America to provide smaller communities with the right service, at the right quality and connectivity for the least amount of expenditure. Huawei, for example, has worked with one ISP to extend their network to give priority traffic to a poorer community whose school children were without access. The ISP gave them free connectivity for government services and educational services but they cannot go on recreational sites such as Netflix or YouTube, he explained.
Good connectivity is critical to online learning so that the online experience is good, he stressed. If you have a fuzzy video conference the students will lose interest, he noted.
Communication and Collaboration
Guillot also stressed the importance of communication and collaboration to successful digital transformation, adding: "It has to be scientific communication – what are you doing and why. Science not politics."
Questioned as to how governments could get citizens to accept technology, he advised: "Do it in small increments." People do not like change. So it cannot be radical change because everyone will be against it. He recounted that in 2010/2011 when Mexico City, then one of the most dangerous cities in the world, wanted to introduce video surveillance in the city, it started by putting cameras in schools, not where crime was. When the project was expanded to the crime areas, parents were on board because it had begun with protecting children. The criminals didn't like it, but the citizens were behind us, Guillot said.
Some of the actions governments need to take to keep Covid-19 at bay, he said, include:
· transform internal operations to reduce people's exposure to the virus
· put Government services online
· create a Government-wide network identity and digital signature so that public servants are certain about who they are interacting with online
· move towards a cashless economy because cash is high risk as the virus can live a very long time on money
· create a one stop shop so that when somebody has to go to a government office for an approval, they only have to go to one office.
In the Q&A session, Dominica's Director of Telecommunications Bennett Thomas asked how governments could get the ISPs to understand that countries needed to provide access to everybody without charging higher rates in rural communities.
"Everybody in the process has to identify with what you are trying to do," Guillot said, but governments also have to understand that the ISP has to be profitable. He added: "Connectivity has to become a priority service like water and electricity." The best way to get everybody on board is for everyone to get some benefit, he noted.
Wankin believes T&T has good ICT infrastructure that could support the digital transformation of the country. With the establishment of a Ministry of Public Administration & Digital Transformation, she believes the country is well-poised to become a fully digitalised nation. However, she warned, "Access for rural and underserved communities are critical success factors in advancing the digitalization agenda" so that no citizen is left behind.
Background
The webinar was the latest instalment of a Covid-inspired initiative from CANTO's Covid Task Force called CANTO Conversations. Visit www.canto.org/covid19/ to view this and other webinars in the CANTO Conversations series.
Luis Guillot is the CTO of Government Solutions for Huawei Latin America. Prior to joining Huawei, he served as Director of Infrastructure and Public Sector at GoNet de México, and Director General of ICT Governance for Mexico City. The Mexico-based expert who, pre-pandemic, spent most of the month travelling throughout Latin America and the Caribbean sharing Huawei's insights on successful strategies for a digital transformation agenda, now travels virtually to share that knowledge.
CANTO is a non-profit association made up of operators, organisations, companies and individuals in the ICT (telecommunications) sector. The Association has a Caribbean focus as it relates to ICT issues for the Region with a global perspective.
CANTO Conversations is an initiative of the CANTO Covid 19 Task Force which was established to support CANTO members, engage Governments and Regulators, and share best practices amid the current health crisis facing the world.
End