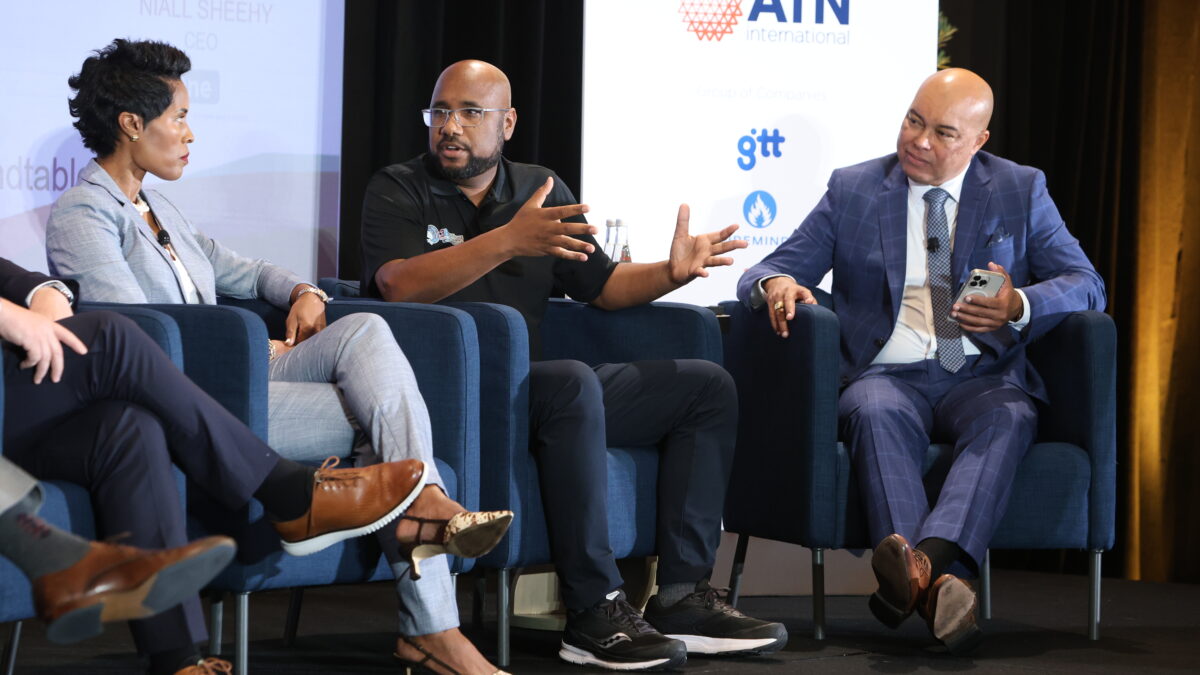 The Caribbean and Latin America on the Cutting Edge of AI Adoption in the Region
Miami, Florida             On the third day of the 38th Annual Conference and Trade Show of CANTO, delegates heard that Artificial Intelligence (AI) is aiding firms bring improved customer experience and service delivery and that Caribbean and Latin American firms are in the forefront of the innovation. Mr. Shem Erskine, General Manager, WeSolve CX delivered the keynote address for  the panel discussion on The Power of AI to Improve Customer Experience in the Caribbean. He gave a simple definition for AI as a computer system that is designed to perform tasks which normally requires human intelligence. AI, he said, can take the form of either text, audio, video or combinations of any of the three. And because in the Caribbean customer service support systems are usually delivered through audio or chat/text platforms manned by humans, there are opportunities for firms to improve service delivery and offerings via the incorporation of AI systems.
Human dependant systems he said are inconsistent, error prone, and over the passage of time, efficiency will decrease as humans tire. However, with AI supported chatbots, customer service can go to the next level as AI supported systems can have conversations with customers based on customers' natural inputs as part of a normal conversation instead of simply providing canned responses. AI systems, he added, can aid in the construction of emails, conduct quality control and sentiment analysis, as well as give human customer service representatives live recommendations, and virtual feedback.  AI in its present form can also improve the customer service experience by performing repetitive tasks leaving employees free to to use their time and energy for more creative higher value tasks, and problem solving.  AI can also detect when customers have challenges and initiate a conversation with the customer to provide solutions.
Mr Erskine, however, warned that AI requires significant investment in time and data in order to program the system. At present there is no single AI tool that offers all a business may require. Different AI solutions will have to be combined for a customised offering, he noted. At a minimum, an AI solution requires at least modest broadband penetration and a governance and legal framework in order to keep users of the technology accountable and customers' information secure. For example, firms must themselves have good governance practises to manage the ethical use of customer information, determine who has access to data, who vets for accuracy of data, and the firm must also outline clearly to employees what they can and cannot do with the data . Outside the firm, a regulatory framework must also be in place to protect consumers.
Turning to urban planning and the role of AI in Building Safer Communities: Exploring Safe City Trends and Best Practices for a Secure Future Mr Glenn Patricio of Latin America Repgroup who delivered the keynote address for the panel discussion, told delegates that AI can be utilised to improve the safety of smart cities. He said this involves the deployment of tools for improving five main areas in city management: data collection; traffic safety; customised signage; investigation; and building safety. AI, he said aids smart cities monitor urban areas continuously and can even call out emergencies services when crises are detected.  AI enabled smart cities can also aid in gun-shot and aggression detection within one hundred and fifty (150) feet of sensors and cameras and distinguish the sound of gun-shots from other similar sounds. AI enabled systems can also assist law enforcement to quickly identify and track suspects, stolen vehicles and more.
Citizen privacy is, however, a concern for many, said Mr. Jerren Lewis, Product Marketing Specialist, Digicel Business, and moderator for this panel discussion.  Panellists indicated that certain protocols usually attend operations of a command centre for a smart city, and these include: the vetting of personnel before employment at the centre, and restrictions surrounding who has permissions to access of certain data, recordings, and/or videos from cameras and sensors.  They indicated ordinary employees cannot manipulate the data or download videos unless they have been given specific access.  Access, is the domain of supervisory and management levels of authority and responsibility.  Mr. Patricio added that while Latin America and the Caribbean have been slow to adopt with smart city technology because of cost, the region has generally have done better than the USA with regards to the early adoption of AI by as much as eighty percent (80%) compared to ten to twelve percent (10%-12%) in the USA. He explained that AI is aiding the efficiency of smart cites' command centres utilising by forensic and excellent deep learning neural networks.
Day three also saw telecom operators presenting on what they are doing to transform from being simple classical telecommunications providers to digital communications service partners or technology companies in an Operators' Round Table entitled Transition from Telco to Techco.  CANTO Chairman and Telesur Chief Executive , Mr Mike Antonius, presented the keynote and moderated the panel comprising decision makers from BTC Bahamas, Mr Sameer Bhatti, Chief Executive Officer; GTT, Mr. Richard Stanton, Deputy Chief Executive Officer; Digicel Barbados,  Ms. Natalie Abrahams, Chief Executive Officer; and One Communications, Mr Niall Sheehy, Chief Executive Officer.  The Executives noted that the nature of customer demand had changed.  Customers, they said, are not only looking for connectivity but other additional services in areas such as cyber or home security, the establishment of smart cities, mobile applications, cloud computing, as well as customised curated content. Telecoms, they indicated, are now partnering with ICT providers to become e-Enablers in a bid to offer services in a myriad of new business solutions areas such as transport, health, digital payments, retail,  and and more.
Expanding Financial Inclusion through Secure Digital Payments: Empowering your Phone to Make and Take Payments was another panel discussion that explored how small and micro business enterprises may expand the payment options and solutions available to their customers in a cost effective manner. Mr. Rodolfo Duran, Vice President, Technology Strategic Partnerships for Northern Latin America and the Caribbean, Mastercard, delivering the keynote for the panel said that while as much as fifty percent (50%) of the Caribbean is unbanked, mobile penetration is quite high with as much as eighty percent (80%) or persons having access to mobile devices. Applications, he indicted now exist to allow street-side vendors to receive payments from credit cards and the like.  What is however required in the region is a harmonised regulatory framework to reduce fraud.
CANTO's 38th Annual Conference and Trade Exhibition attracted over 600 attendees from over thirty (30) countries, in 2023. Next year, 2024, its 40th Annual General Meeting will take place at the Hyatt Regency Hotel in Port of Spain, Trinidad and Tobago, during the period 28th-30th January 2024.  And CANTO returns to the JW Marriott Turnberry Resort & Spa, Miami, Florida, USA for its 39th Conference and Trade Exhibition, to be held during the period 7th-10th July 2024. The theme for 2024 is Towards a Sustainable Digital Economy!