CANTO Re-elects Four Directors to its Board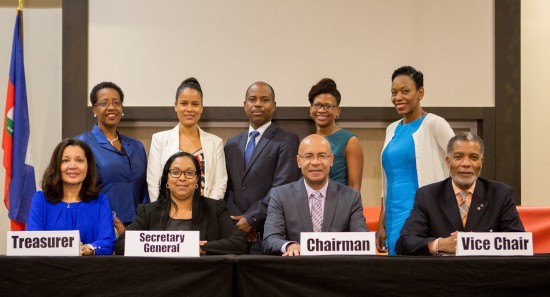 CANTO a non-profit association made up of operators, organizations, companies and individuals in the ICT (telecommunications) sector ended its Annual General Meeting proceedings on Tuesday (02/02/16). The AGM co-hosted by Digicel Haiti took place from the 31st January – 2nd February, 2016. The event was held at the newly built Marriott Port au Prince, Haiti and will conclude with the BIIPAC Project Component 4 Workshop from the 3rd – 4th February, 2016.
The election of Board Directors is an important part of the AGM proceedings where four (4) Directors were up for re-election: Cable &Wireless Grenada, Columbus Communications, Digicel Turks and Caicos and TSTT. The four Directors were re-elected unopposed for another two (2) years in accordance with the bylaws of CANTO. The re-elected companies will be represented by:
Gail Moss-Solomon Director Digicel Turks and Caicos
Rochelle Cameron Director Cable & Wireless Grenada
Charles Carter Director TSTT
Opal Neil Director Columbus Communications
The other members of the Board are: Chairman, Julian Wilkins, Digicel Trinidad & Tobago; Vice Chair, Leon Williams, BTC, Bahamas; Helma Etnel, Treasurer, TELEM, St. Maarten; Director Lyrio Gomez, UTS, Curacao; Director Melesia Sutherland, Cable & Wireless, Antigua and Barbuda and Teresa Wankin, Acting Secretary General, CANTO.
Chairman Julian Wilkins stated that: "throughout the year, my Directors have consistently demonstrated their commitment and support. Their enthusiasm has played an essential role in responding to the challenges experienced in 2015. I am truly grateful to my colleagues and Directors for their efforts in ensuring the Organisation's continued progress".
The Chairman went on to say that: "in the face of increasing competition and converging technologies, CANTO's overall performance would not have been possible without the commitment, teamwork and dedication of the CANTO Secretariat Management and Staff."
The Association thanks all members, partners, sponsors and exhibitors who made this event possible: Digicel Haiti (Co-host), BTC, ICANN , FLOW, ISOC, DSS, LACNIC, FLOW, Global Solutions/NAAP and the IDB for its support of the BIIPAC project; EUPEN Cable, Global Solutions/NAAP, Hexatronic and Mobile Distribution Group (MDG).
Join us at the 32nd Annual Conference & Trade Exhibition from the 31st July – 5th August 2016 in Puerto Rico.